Stand out from the crowd.
We are keen to help you stand out from the the crowd, and win business. So how about a product with your brand on it? Something that stays around for a while and often gets passed from client to client? We will help you create the right impression and get you in front of as many people as possible.
Carpenters Pencil 
Multicoloured
Code: 100467
Rectangular shaped carpenter's pencil. Available in colours natural, orange, red, green, blue and black.

Wax highlighter
Coloured wax marker
Code: 107079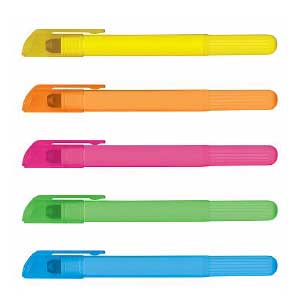 A6 Notebook
160 pages
Code: 106098
A5 notebook
160 pages
Code: 106099
Portfolio
PU Leather
Code: 102172
We're here to help!
We love to offer our customers the best price - so get in touch with your local studio with your business needs and creative ideas, and we will provide you with a quote.