Go on. Admit it. Dare you.
We're all attracted to shiny things. Can't fight it. Sorry about that.
There's a reason our StarMarque range is popular. It demands attention.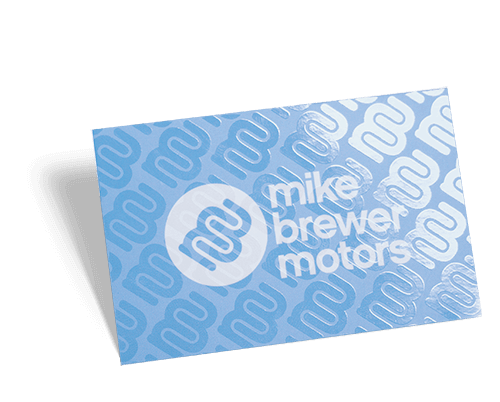 You have precious few seconds to get attention and shiny spot gloss highlights are a secret seducer. Add them to invitations, rack cards and business cards.
Now they cost less than you think, prices start from just $188. Even upgrade and add creases, perforations or a cut-out shape.
Order today or get in touch with your nearest studio to share ideas about seducing the inner magpie in your customers.

Business Cards
from $188
StarMarque Business Cards are matt laminated both sides and then gloss varnished highlights are applied to the front.

Rack Cards and Invitations
from $292
Our StarMarque Rack Cards have gloss varnished highlights on the front, which creates a dramatic,
high-impact effect.

Greeting and Holiday Cards from $521
StarMarque Creased Rack Cards have gloss varnished highlights on the front and back, which creates a dramatic, high-impact effect. 
Making the most of StarMarque
It's not just magpies that love shiny things – we're all attracted to them. Diamond necklaces, new cars, crystal glasses. They never fail to get our attention. Increase your chances of getting noticed by adding glossy StarMarque highlights to your marketing material.
So what is StarMarque?
We all know that adding gloss lamination to an image increases the intensity of colours. StarMarque is a special process which only adds a gloss coating to selected parts of the image or document.
We start with a matt laminated item such as a business card, folder or leaflet. The matt base provides a great contrast for the next layer – a special hi-gloss varnish. This varnish is only applied to the areas you want, hence the commonly used name "spot varnish".
The end result is a beautiful flyer or card with both gloss and matt areas. This has the effect of accentuating and drawing attention to the glossy part of the design. Ask your local printing.com store for colour charts to compare the difference.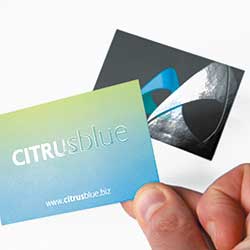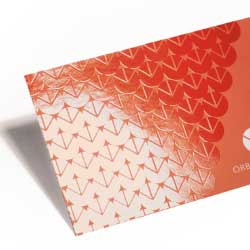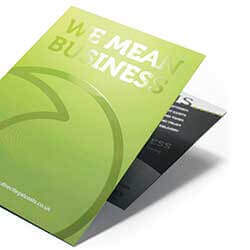 Shaped StarMarque Rack Cards from $292
For the ultimate showpiece, upgrade to an impressive Shaped StarMarque Rack Card. Create intriguing shapes, use creases to fold or perforations as 'tear off' areas. Ask your local printing.com for free samples of StarMarque items, or for ideas on how they could help make your marketing more effective.

How can I use StarMarque?
Lots of businesses are finding that adding StarMarque to their marketing material is giving it a lot more weight and presence. The gloss highlights provide an additional visual stimulus because of the varied textures on the single printed surface. This adds depth and impact and sets the perception of high quality in the eyes of the recipient.
If you're selling a premium product or are trying to position your business at the upper end of your market, create a striking first impression with StarMarque Business Cards, Presentation Folders and Rack Cards.
What works best?
StarMarque looks great added over the top of dark colours – black, dark blue, purple, that kind of thing – that's where the contrast is greatest. On a light background, the highlights will be less visible and they'll be practically invisible on white – although that's sometimes useful if you want to use it as a difficult-to-copy security feature.