Business as we once knew it, has changed.
With new social distancing rules in full force, those businesses that are still able to operate, or are thinking about reopening are looking to introduce new measures to keep staff and customers safe. We've put together this collection of essential products designed to help support businesses becoming 'Covid-secure'.
 
Branded Face Masks
Wearing a face mask helps to reduce the distance that droplets can travel via breathing, talking, coughing, or sneezing. Printed in full colour with your logo or branding, these masks are a a great way to generate brand awareness whilst adhering to current safety advice. Please note: these are not medical grade masks.
Roll Up Sneeze Guards

Roll up sneeze guards are a cost effective way to create barriers between customers or co-workers. The vinyl is secured to the top of a 2m fixed-height pole and provides suitable screening for sitting, or standing height. Get it printed with your design or logo, or leave clear.
Mighty Sneeze Guards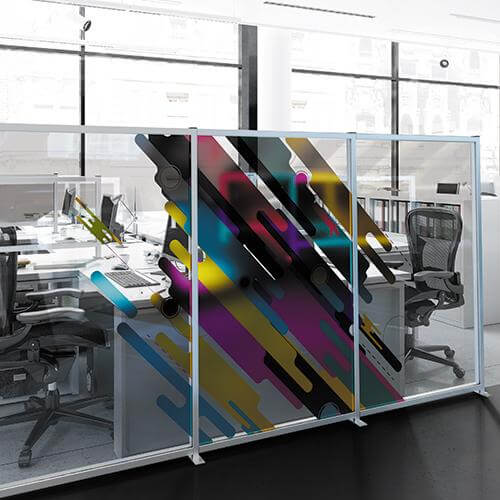 In the wake of the Coronavirus pandemic, shared work spaces are now considered to be a potentially hazardous environment. Our Mighty Sneeze Guards are a sophisticated and permanent solution to achieve a more 'Covid-secure' space in your office or communal areas.
Safety Posters
Reinforce the latest Government issued safety guidelines on a large format poster. If you've had to make changes to the way customers interact with you, they can also be used to advertise operational messages like new opening hours or a temporary new address.
Suspended Guards
Perfect for small independent stores, takeaway outlets and customer service areas. Suspended sneeze guards are supplied rolled up and come with a simple hanging kit for suspended ceilings. Comes with a printed foamex header and footer for personalised branding.
Queue Barriers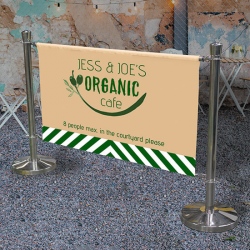 With the introduction of social distancing advice it may be necessary to change the layout of your entrances, till areas or working and canteen spaces. Branded queue barriers can guide your visitors and employees safely and help to keep them informed of the new safety practices on your premises.
Floor Stencils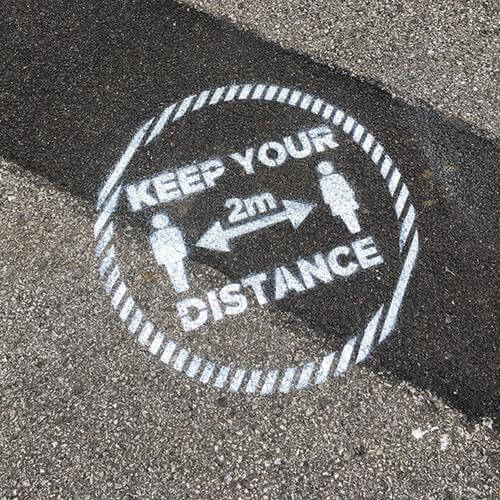 A simple visual cue, like a message sprayed onto the ground, can be a really effective way to remind people to stay a safe distance apart. These floor stencils are custom-cut out of 3mm foamex board with your design, logo or message.
Hand Sanitiser Stations
Hand sanitiser stations offer a quick and easy way to bring hand sanitising facilities to your premises. They're made of a lightweight board and are wipeable, so they're easy to keep clean, and come with an automatic dispenser - helping to keep the unit germ-free. Floor, wall and counter top variations available.
Premium Sneeze Guards
Transforming your customer-facing and staff workspaces into Covid-secure environments is made easy with these Premium Sneeze Guards. They're made from clear 5mm WindoplexTM which is like acrylic, so you can still have a perfect view of your customers and colleagues.
Navigation Signage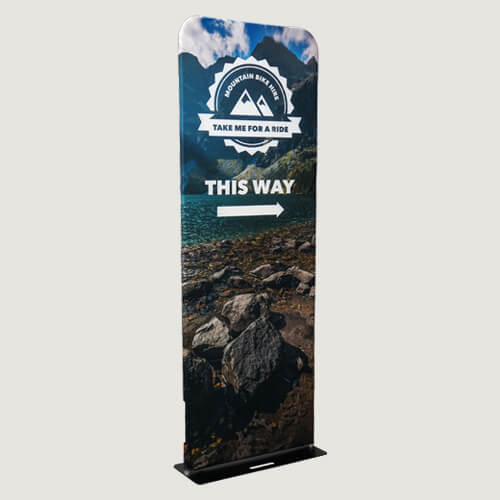 Do you need to change access to your premises? Maybe your team are now working from home. Or you have new check-in rules. Use way-finding soft signage to aid customer navigation. Print your new instructions to help people understand what to do.
Freestanding Sign Posts
These freestanding sign posts can be accessorised with an A4 wallet or frame. Alternatively, a permanent message can be printed on both sides. Use in busy spaces like shops, pharmacies and factories where important safety messages need to be reinforced at ground level.
Cone Signs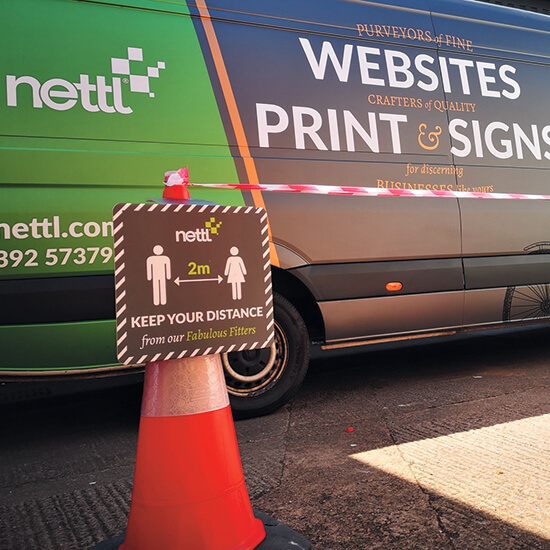 Customise traffic cones with these slip-on signs. Simply slide the signs over the top of the cone for an instant attention-grabbing device. Use outside as a queue controlling measure, to aid navigation, or to help define designated collection or delivery spaces.
Floor Mats
As businesses start to reopen, it's important they reinforce social distancing measures in a clear and obvious way within their workplace. These floor mats can be printed with social distancing reminders to help keep customers and staff safe at all times. Add your logo too, to keepthe message on-brand.
Strut Cards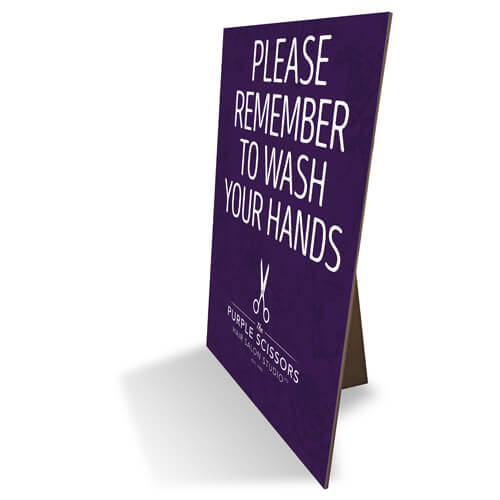 Print reminders about hand hygiene and social distancing on portable Strut Cards. Each one has a rigid foamex front and cardboard strut attached to the back to make it stand up on a table top or desk.
Sneeze Guards
Help to protect workers and customers in shops, newsagents, post offices, pharmacies and other retail environments with a portable sneeze guard. They feature an acetate window to aid communication and a cut-out area at the bottom where transactions can be made.
Circle Floor Stickers
Encourage customers to stay a safe distance apart and reinforce important safety messages with instructional floor stickers. Choose between indoor or outdoor variations. The outdoor option is made from an aluminium based substrate and can be recycled.
Rectangle Floor Stickers
Encourage customers to stay a safe distance apart and reinforce important safety messages with instructional floor stickers. Choose between indoor or outdoor variations. The outdoor option is made from an aluminium based substrate and can be recycled.
Magnetic signage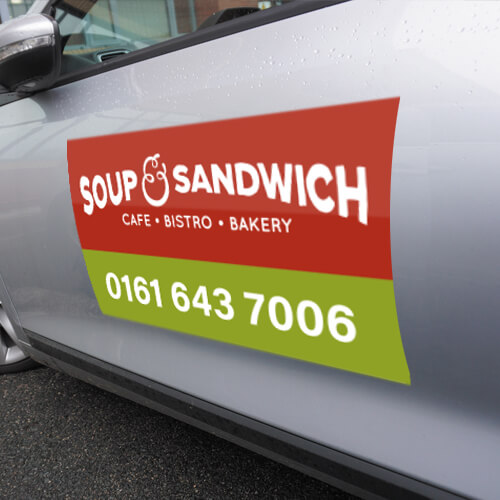 A quick and cost-effective way to instantly add a logo or livery to any car, van or truck. These magnetic graphics are ideal for restaurants that are now offering a take-away delivery service. To remove, simply peel off the side of the vehicle, leaving no residue.
Video Backdrop
Printed on 'Black Back' fabric to stop light passing through, these are ideal to use as video call backdrops at home or in the office. Assembly can be completed in a matter of minutes without the need for tools, and packs away neatly into a compact carry bag.
Desk Dividers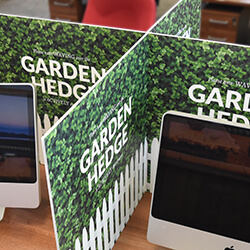 Shared work spaces can now be sectioned off easily with lightweight desk dividers, helping to shield people from germs and viruses that are spread via talking, coughing and sneezing. They are printed in full colour on both sides with your design, so let your imagination go wild and make your workspace areas a brighter, more fun place to be.