It's about quality, present your business in the best way possible.
Whether you are your own boss or you work for a company your business card is how you present yourself to your new clients. That first impression can be the difference between a call back or chasing a lead that just won't bite.
Your business card is a direct representation of you and your business. If you have flimsy paper stock it's like giving someone a "wet fish" handshake. If you have spelling errors or text and imagery that is not lined up it looks like your own business is un-organised. If the look and feel of your card does not align with the solutions you offer it can send mixed messages and create confusion. If the brand on your business card does not match the solutions you offer you will only create confusion. It is imperative to get your card right from the start to ensure your business is accurately reflected.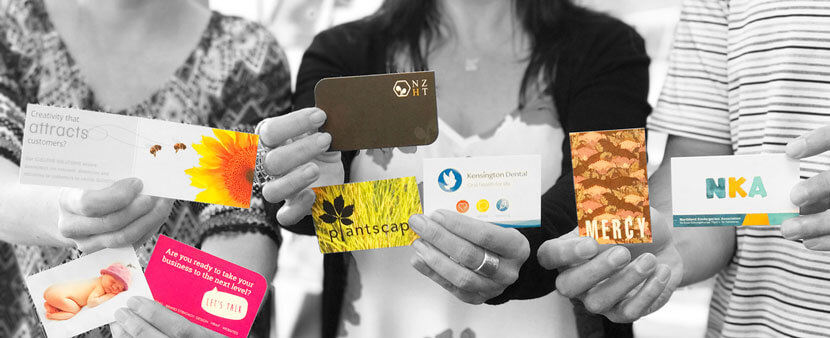 Business cards are our highest selling online product, so we know what we are talking about when it comes to printing and designing high quality business cards. If you are in the market for a new business card be sure to read these tips before you start, or contact your local print studio to get your business cards printed or redesigned.
01. Use an experienced designer
It might seem obvious but it's worth mentioning that a business card is a piece of printed material like any other. Because of this, the basic principles of paper-based design apply to business cards and a graphic designer with print experience can help you achieve a great design finish:
Keep all your key copy at least 5mm from the trim edge
Work at 300dpi for best image reproduction
Ensure you maintain a minimum size for your typography to maintain legibility
Design in CMYK unless you're working exclusively with spot colours
An experienced designer will also be able to produce a business card that not only looks great but uses design principles to capture your clients.
Sometimes you just want a quick card and you don't want to get a designer involved. That's OK. We get it. That's why we had our designers create a load of business card templates that you can use - Simply choose your template, add your details and print as many as you need. Simple, right? because sometimes life should be just that.
02. Use unique or special finishes
An instant way to add impact to your business card, and make it stand out from the crowd, is to use a special finish. Special finishes include the likes of matt laminated, gloss laminated  . What they offer, is the opportunity to make your card more tactile, visually impressive and memorable.
printing.com offers many different options for finishes, so speak to your local studio them to find out what they can do for you, or take a look at some of our business card designs.
03. Cut into your card to be unique
A great way to make your card unique is to use a die-cut process to remove elements from the card stock, leaving a void. You can either use a die to change the shape of your card (by rounding the corners, for example), or you can cut shapes out of the centre.